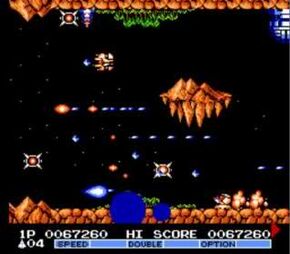 Heavy Blow or simply
Volcano
, is the 3rd stage in
Gradius II
NES, it's very similar to the arcade version, but at the end of this stage there isn't a boss to fight.
For this level, I might even consider getting a double. The next part of the level is daunting. Before getting too far into it, you be greeted by a whole bunch of gunfire. You'll want to stay low to get rid of the ground enemies, and also because you'll have fly under a rock formation.Then under and over again, avoiding and shooting down enemies until you reach the volcano. Keep shooting until you notice a break. Try to get as close to the tip as you can when you're shooting and you'll get by easily. Next, kill those bouncing enemies or prepare to avoid their shots, which go in every direction. You'll now have to squeeze between two volcanoes. Same tactic as before, shoot like crazy, and fly through them.
Community content is available under
CC-BY-SA
unless otherwise noted.