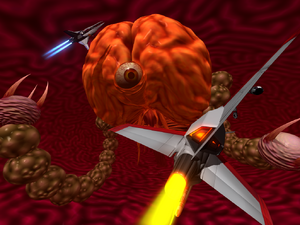 Poison of Snake is a boss theme that had been used throughout the Gradius series.
Description
One of the legendary music tracks that has been remixed many times in the Gradius series. It was first introduced in Salamander (Life Force in worldwide version) as the Boss theme in every stage. The music track returns in Gradius II as the second track to play in the game's Boss Rush, following the playing of Aircraft Carrier. Poison of Snake does likewise in Gradius III Arcade version as the second theme to play in that game's Boss Rush. Fast forward to Gradius V, and Poison of Snake is remixed to a slower beat; it is used in Stage 2 as the track for the first two bosses of the game's earlier of two Boss Rushes. Fast forward again, and we also find Poison of Snake as Boss music in Otomedius.
Usage
External links
Community content is available under
CC-BY-SA
unless otherwise noted.