Background
Perla Meralda is the boss of stage 7 in Gradius Galaxies. It sets the record for most barriers on a core warship, with a whoppin' 14. Perla Meralda is featured again in Otomedius Excellent.
Attack Patterns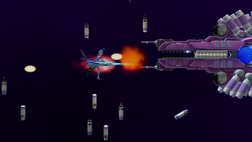 Perla Meralda appears to have a combination of other Core's attacks. At first, Perla Meralda will use four lasers, similar to
Big Core
. It will fire this pattern 4 times before moving to the center of the screen. Next, it will engage its two large lasers it has to trap the player in an area(like
Big Core MK III
), which it will move around the screen. As it does this, it will also be firing missiles which will head up or down through the barricaded area, similar to
Covered Core
's missiles. After this, it will deactivate it's lasers, and go back to firing 4 lasers again. After four more volleys, it will head to the center of the screen once again, charge up it's lasers, and rapid fire with them while moving left across the screen. After that, it will restart its attack pattern. Perla Meralda can apparently have its large lasers destroyed, and will stop moving if this happens.
Appearances
Trivia
The term Perla Meralda comes from the spanish word "Perla Esmeralda" which means "Pearl Emerald", seems than Konami's people mistranslated the name.
See also