We're Getting Mutants in the MCU - The Loop
Play Sound
The Metalion (メタリオン, Metarion?) is the player's ship in Nemesis 2.
Description
The super spatiotemporal fighter Metalion is the first space fighter equipped with the Hyperdrive System 11 psychic/Wreek power propulsion engine, which dramatically improves the ship's energy efficiency.
In preparation for the imminent Bacterian invasion, its development was promoted following the super spatiotemporal fighter Vic Viper. It was developed by Dr. Venom, who was Director General of the Space Science Agency under the direction of Emperor Lars. Its first test flight was done in 6665 from Nerba Base No. 12, were the Hyperdrive System 11 was proven to be unstable.
As Venom et al. were exiled after a coup attempt, the final adjustments of the psychic/Wreek power propulsion device were left for the engineers of the Space Agency, but advanced as expected and the ship was completed by the time of Venom's invasion.
Data
Width: 11,78m
Length: 18,23m
Height: 3,84m
Weight: 13,2t
Capacity: 1 seat
Engine: Psychic/Wreek Power Engine
Standard Armed Equipment: 5
Maximum Armed Equipment: 16
Maximum Speed: 40 warp
Cruise Speed: 8 warp
Special power ups

In addition to the extra weapons, there are special powerups that grant the Metalion extra abilities for a limited time. They are:
Vector Laser - Shoot a very powerful and wide but slow wall-like laser.
E. Slow - Slows down everything, making it easier to dodge bullets and enemies.
Option Warrior - The same as Rolling Options.
Rotary Drill - The Metalion spins around like a drill and destroys anything it hit. It is invincible during this time.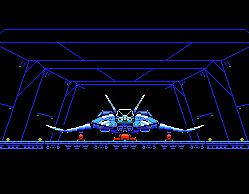 Missile: There's only one level.
Napalm: Functions like the Spread Bomb of Gradius III.
Up and Down Laser: There's only one level. Also, the power has been weakened.
Laser: There's only one level.
Options: Up to four can be equipped.
Vector Laser: Fires delta shaped waves instead of an expanding wall; portions cannot break off to continue forward.
Shield: Like in the arcade edition of Gradius, it flies in from the right side of the screen, and shrinks when hit or collides with terrain.
Weapon set
| | |
| --- | --- |
| Original weapons | Modified weapons |
See also