For the character, see Lord British (character).
Lord British (ロードブリティッシュ, Rōdo Buritisshu?) is a recurring spacecraft from the Gradius series. It made its debut in Salamander, where it is controlled by Player 2. Lord British has had other names such as Lord. B or Road British, the latter as a result of romanization. It has red streaks instead of blue ones as those from Vic Viper, and it's in the shape of a jet.
Arsenal
Since Lord British debuted in Salamander, all of the new weapons (including the Tailgun, despite not being in Salamander) in that game were instantly attributed to it (despite also being available to Vic Viper at that time and with the weapon set being used by it in later games).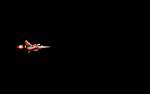 In Gradius Gaiden, where Vic Viper was limited to the Standard Type 1 weapon set, it gained the Disruptor, its exclusive replacement for Vic Viper's Laser (the Ripple Laser is now the Double). The Disruptor is a unique red-orange laser in that it shoots out in a pulse-like manner and that each beam reaches the length of the screen. Its main disadvantage is it's low rapid rating, as enemies may be able to sneak up on Lord British when it has finished firing the Disruptor.
Weapon sets
Gallery
Trivia
Community content is available under
CC-BY-SA
unless otherwise noted.