Background
Heaven's Gate is the true final boss of the boss rush in Gradius Gaiden. It will appear in loop 2 and beyond (IF you have the "Normal" difficulty). Although it is not directly connected to Big Core MK II, the method of it's attacks makes it look as though it were the spiritual successor of it. It also appears in the Xbox 360 game Otomedius Excellent as the boss of Stage 5 being piloted by Shiori Fujisaki, one of the main girls from the Tokimeki Memorial series.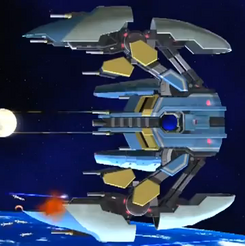 Attack Patterns
Heaven's Gate will unfold it's arms and shoot many lasers, similar to Big Core MK II. Also, it will shoot thin, green lasers while moving up and down at various speeds. When it folds, it will shoot the small lasers again, but there will be barely any gaps to fit though. When it glows green, it will center itself and shoot thin lasers starting from the top/bottom and working it's way to the middle. While it is doing this attack, the main core port is vulnerable to attack. Otomedius Excellent has added new tac tics to it, it will fire missles from above and below the center, after it folds it's arms, it will fire a laser beam in the middle. On harder difficulties, it will fire bombs from behind at the top.
Strategy
In order to evade the lasers from this boss, a safespot near the core will be the very easiest to defeat the boss.
Appearences
See also