Not to be confused with Doom.
Death (デス, Desu?) is a boss in Salamander.
Description
Death MK I is the first of the infamous Death bosses in the Gradius series. This one was the boss of stage 5 of Salamander, but not Life Force (this role was given to Gaw). Unlike its later brethren, this one lacks the "Beam of Death".
In the MSX version of Salamander, Death is called 'Seducer' for some reason.
Death reappeared in Otomedius Versus mode, and its spell changed into 'DES' instead of Death. DES in Otomedius attacks with every pattern it and its variations had.
Attack patterns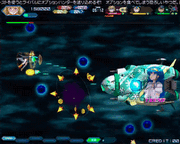 The doors open and release a small, common enemy. Eventually, the core will glow red for a second and release a bouncing core, similar to the Fortress Valis in stage 4. It will occasionally release another core until it's destroyed.
After you destroy a volley of cannons in Planet Lavinia, Death will appear upon destruction of the space fortress and will launch a ship that fires laser lines on top and below (see Parodius for details, it has it) once the hatch is destroyed, Death will move fast on-screen (this would scare players much and distracts the player when the hatch is destroyed). The boss has poor health so you don't have to worry about it.
This version is very hard to battle, since you CANT destroy the hatch, all it does were launching a 3 way flying cores (8 way if you have 4 Options) 3 way homing missiles (8 if you have 4 Options) and a fighter that fires the same missiles as Death does (or Phalanx) You must destroy its core when the hatch is opened.
Gallery
See also
Community content is available under
CC-BY-SA
unless otherwise noted.