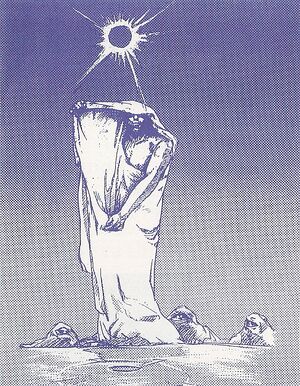 The Ancient Latis Civilization is a extinct ethnic group which inhabited the Latis planets.
Story
The Ancient Latis Civilization was one of two primordial civilizations which inhabited the Latis planets around 100 million years ago. Their civilization was both culturally and technologically advanced, being believed they lived a mostly peaceful lifestyle due to their aversion of fighting.
The Ancient latis people used a primordial form of psychic power, so powerful that they believed it could cause the destruction of the universe if it got misused, hence why they avoided conflict. This primordial power would later become what is now known as Wreek Power, and in fact the ancestor of the Wreek race which have come to inhabit Planet Gradius descended from the Ancient Latis Civilization.
Though the Ancient latis people had extreme self-control of the powers, but exposition to cosmic radiation even in small quantities caused them to lose their powers, even more so than the modern Wreeks. It is believed their civilization went extinct after one of their suns died, which caused a massive amount of cosmic radiation to rain down upon Latis.
One of the abilities of the Ancient Latis people was to look into the future. Before their demise, they left behind a prophecy known as the "Prophecy of Fire", spreading parts of it into the four Latis planets. This prophecy warned about a grave crisis which Latis would endure millions of years later and which could spell doom to the planet. It would later be revealed that this prophecy predicted the invasion of Latis by the Salamander Force, as well as the resurrection of Venom.
Community content is available under
CC-BY-SA
unless otherwise noted.